HSCF - High Speed Container Filler
HSCF
For various ready-to-eat products in various types of containers
Flexible dispenser systems and punnet conveyors
Handle a broad range of packaging types and sizes.

Adjustable flight distance
You save valuable downtime minutes with quick changeover for various container sizes.
Newtec's High Speed Container Filler is equipped with a tool for each container type and while covering complex functions each tool is very easy to change from running one container type to another. E.g. it is easy to change from clamshell trays to buckets, because the following three units are exchangeable; the denester, the filling chute and the closing unit.
WebServices and MachineLink
Furthermore the packing machines are connected to our information and productivity tool WebServices for remote servicing and for capturing production data. Furthermore, the solutions are MachineLink enabled which means that recipe change and start/stop is possible from only one touchscreen, either on our weighing machine or our packing machine.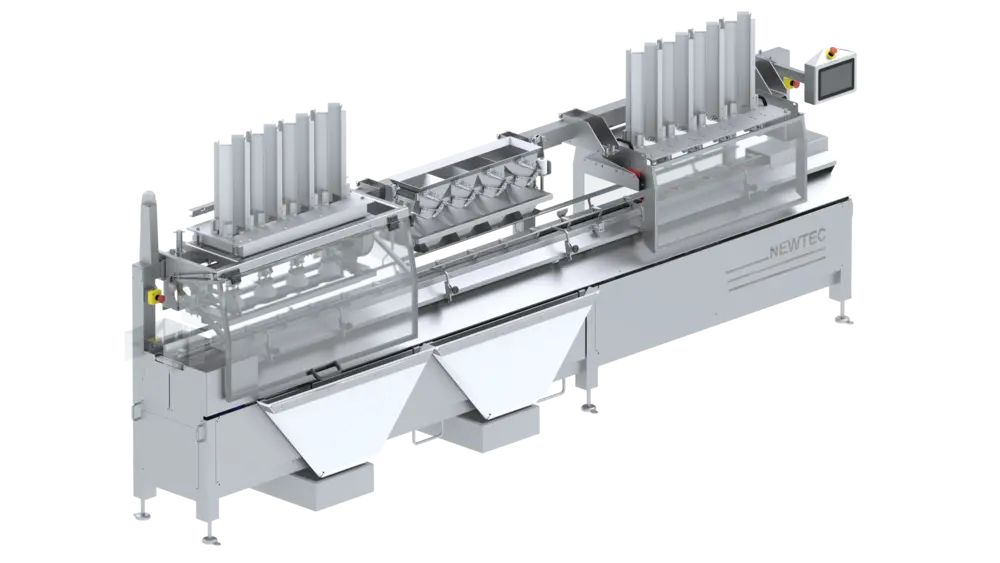 Applications
Various convenience food such as:
Cherry tomatoes and other fresh vegetables

Mixed nuts

Healthy candy

Other ready-to-eat products
Weighed and filled in various container types and sizes.
---
Advantages
High flexibility (container type and size)

High speed – up to 100 containers per min. (depending on container type and capacity of weighing machine)

High flexibility with low changeover time

Gentle product handling – also for fragile and delicate products
Your Advantages
Smooth and fast operation

Optional lid closing unit

Easy access for cleaning and service

Single touchscreen operation controlled from weigher panel
Newtec Software
Intuitive user interface

Informative and upgradeable

Same user interface on all weighing and packing machines

---
Filling System for Cups, Buckets, Punnets & Clamshell trays
Speed:
Up to 100 containers per min. (depending on container type and capacity of weighing machine)
Capacity:
Portion sizes up to 1000g
Material:
According to the EU rules on food contact materials
Air requirement:
Connection: 3/8"
Min. pressure: 6 bar (0.6 Mpa)
Consumption: 250 NL/min.
Electrical requirement:
3x230 VAC or 3x400 VAC (N) PE 50/60 Hz 2.5 kW
Environment:
5ºC  – 40 ºC
Weight:
Approx. 800 kg