HSCF – Remplisseuse de conteneurs à grande cadence
Solutions d'emballage polyvalentes
For various ready-to-eat products in various types of containers
Flexible dispenser systems and punnet conveyors
Handle a broad range of packaging types and sizes.

Adjustable flight distance
You save valuable downtime minutes with quick changeover for various container sizes.
Newtec's High Speed Container Filler is equipped with a tool for each container type and while covering complex functions each tool is very easy to change from running one container type to another. E.g. it is easy to change from clamshell trays to buckets, because the following three units are exchangeable; the denester, the filling chute and the closing unit.
WebServices and MachineLink
Furthermore the packing machines are connected to our information and productivity tool WebServices for remote servicing and for capturing production data. Furthermore, the solutions are MachineLink enabled which means that recipe change and start/stop is possible from only one touchscreen, either on our weighing machine or our packing machine.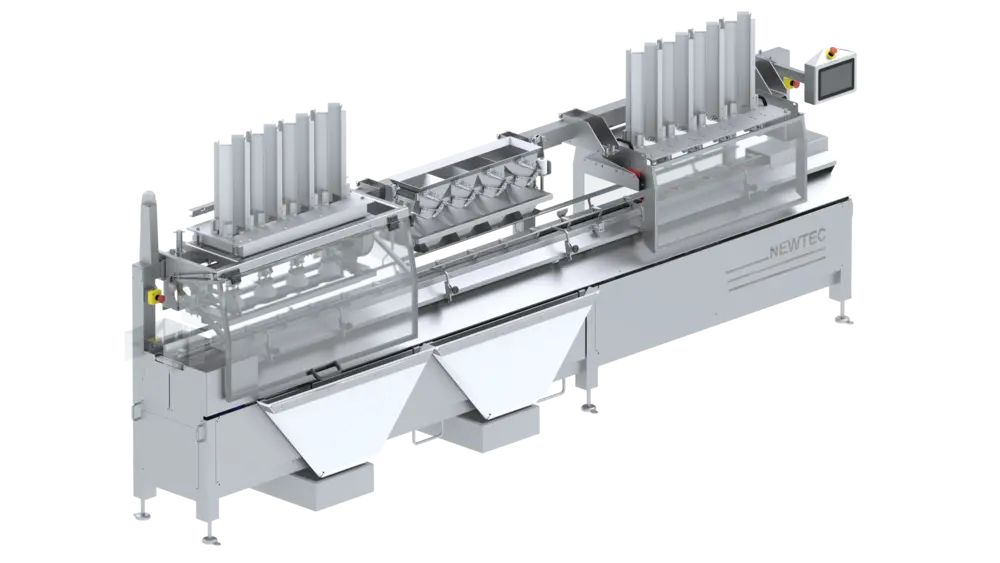 Applications
Divers aliments prêts à consommer tels que :
Tomates cerises et autres légumes frais

Mélanges de noix

Bonbons sains

Autres produits prêts à consommer
Pesés et remplis dans différents types et tailles de conteneurs.
---
Avantages
Grande flexibilité (type et taille des récipients)

Cadence élevée – jusqu'à 100 récipients par min (selon le type de récipient et la capacité de la peseuse)

Grande flexibilité avec un faible temps de changement

Manipulation douce des produits, également pour les produits fragiles et délicats
Vos avantages
Fonctionnement souple et rapide

Unité de fermeture du couvercle en option

Accès facile pour le nettoyage et l'entretien

Fonctionnement sur écran tactile unique contrôlé depuis le panneau de la peseuse
Logiciel Newtec
Interface utilisateur intuitive

Informatif et évolutif

Même interface utilisateur sur toutes les peseuses et emballeuses

---
Système de remplissage pour gobelets, seaux, barqette et barquettes à couvercle
Vitesse:
Jusqu'à 100 récipients par minute (selon le type de récipient et la capacité de la peseuse)
Capacité:
Doses jusqu'à 1000 g
Matériau:
Conformément aux prescriptions de l'UE sur les matériaux en contact avec les aliments
Consommation d'air:
Connexion : 3/8″
Pression minimale : 6 bar (0,6 MPa)
Consommation : 250 NL/min
Consommation électrique:
3x230 V CA ou 3x400 V CA (N) PE 50/60 Hz 2,5 kW
Environnement:
5 °C – 40 °C
Poids:
Environ 800 kg

Contact
Veuillez contacter votre représentant local pour plus d'informations. Voir plus