HSCF - Llenadora de envases de alta velocidad
Soluciones de envasado versátiles
For various ready-to-eat products in various types of containers
Flexible dispenser systems and punnet conveyors
Handle a broad range of packaging types and sizes.

Adjustable flight distance
You save valuable downtime minutes with quick changeover for various container sizes.
Newtec's High Speed Container Filler is equipped with a tool for each container type and while covering complex functions each tool is very easy to change from running one container type to another. E.g. it is easy to change from clamshell trays to buckets, because the following three units are exchangeable; the denester, the filling chute and the closing unit.
WebServices and MachineLink
Furthermore the packing machines are connected to our information and productivity tool WebServices for remote servicing and for capturing production data. Furthermore, the solutions are MachineLink enabled which means that recipe change and start/stop is possible from only one touchscreen, either on our weighing machine or our packing machine.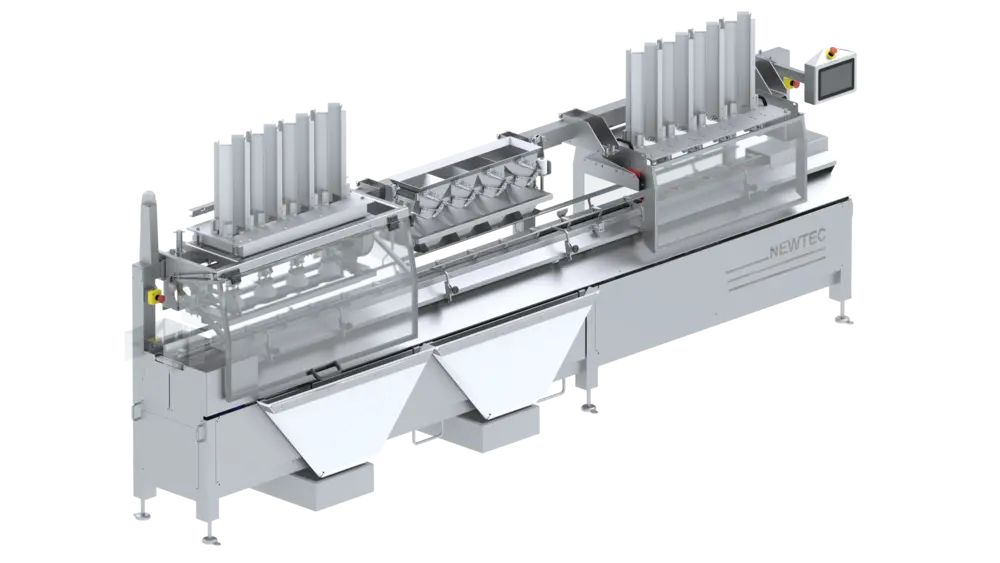 Aplicaciones
Diversos alimentos preparados como:
Tomates cherry y otras verduras frescas

Mezcla de frutos secos

Dulces saludables

Otros productos listos para el consumo
Pesado y llenado en varios tipos y tamaños de envases.
---
Ventajas
Gran flexibilidad (tipo y tamaño de envase)

Alta velocidad: hasta 100 envases por minuto. (dependiendo del tipo de envase y de la capacidad de la pesadora)

Alta flexibilidad con reducido tiempo de cambio de envase

Manipulación cuidadosa del producto - para productos frágiles y delicados
Sus ventajas
Funcionamiento uniforme y rápido

Unidad de cierre de tapa opcional

Fácil acceso para la limpieza y el mantenimiento

Funcionamiento con una sola pantalla táctil controlada desde el panel de la pesadora
Software Newtec
Interfaz de usuario intuitiva

Informativo y actualizable

La misma interfaz de usuario en todas las pesadoras y envasadoras

---
Sistema de llenado para vasos, cubos, barquetas y bandejas con tapa
Velocidad:
Hasta 100 envases por minuto (dependiendo del tipo de envase y de la capacidad de la pesadora)
Capacidad:
Tamaños de las porciones de hasta 1000g
Material:
De acuerdo con las normas de la UE para materiales en contacto con alimentos
Requisito del aire:
Conexión: 3/8"
Presión mínima: 6 bar ( 0,6 Mpa)
Consumo: 250 NL/min.
Requisitos eléctricos:
3x230 VAC o 3x400 VAC (N) PE 50/60 Hz 2,5 kW
Ambiente:
5ºC - 40 ºC
Peso:
Aproximadamente 800 kg

Contacto
Contacte con su representante local para más información. Vea más