High-quality weighing, packing and sorting machinery
Newtec is a leading manufacturer of weighing, packing and sorting machinery primarily for the fruit and vegetable industry. With more than 20,000 successful installations over the last 45 years, we have maintained our position as a reputable worldwide company. At Newtec, we pride ourselves on the ability to design solutions that meet your specific needs by combining our machines and the latest technology in new and innovative ways.
We have a reputation for developing, engineering and building high-quality, high-performance machines that our customers rely on.
We focus on building successful long-term relationships with our customers. Understanding your business and the potential challenges it faces is a critical step in order to deliver solutions that make an impactful difference.
Newtec Network
We are represented in more than 50 countries with subsidiaries in Copenhagen and the UK and a joint venture in China. Newtec has formed many strong partnerships throughout the industry, ensuring the right solutions are delivered to you. Together, we deliver cutting-edge machinery, integrated into one solution and supported by local, qualified representatives to ensure each solution continues to meet the needs of your business.
Please find your local representative on our list of dealers or contact us directly, if your country is not listed.
At Newtec, we focus on quality and long-lasting relationships when designing and manufacturing our machines. In order to meet the increasing demands of the industry, Newtec has formed partnerships with other leading manufacturers. Together, we deliver industry leading solutions - all purchased, installed and serviced from a partner near you.
We are proud to present our solution partners:
| | |
| --- | --- |
| | Clipping machines, net welding machines |
| | D-Pack net bagging machines |
| | Paperbaggers, casepackers and complete washing, sorting, packhouse and process solutions |
| | Horizontal form, fill and seal (HFFS), complete packhouse solutions |
| | Horizontal form, fill and seal (HFFS), complete packhouse solutions |
| | Vertical form, fill and seal (VFFS) |
| | Net sack machines, master baggers, clipping machines |
Newtec Team
At Newtec, we work with a common goal to develop, manufacture and market innovative, high-quality weighing, packing and sorting equipment for the food industry.
Newtec is an international company with a cross-cultural work environment. We cherish our open, informal work environment and we are known for being straightforward and open minded.
We value team spirit, innovation and a dedicated approach to setting goals and adding value to customer solutions. We are always nearby and ready when you need us!
In a world of constant and accelerating change, it can be challenging to keep up with the opportunities and potential threats that new regulation standards bring. We continue to invest significant resources on research and development to ensure that our solutions remain one step ahead.
We have invested in the development of our state-of-the-art in-house laboratories, which work in close cooperation with national and international researchers, scientists, universities and PhD students to identify new developments and insights that have the potential to transform the whole industry tomorrow. This could come from advancements in material sciences, nanotechnology, next generation optics, Artificial Intelligence (AI), and countless other industry related technologies.
Did you know that in 1997 Newtec constructed the first AI-based grading machine for potatoes before:
WiFi was introduced
Facebook.com was registered
Netflix was established
Operating systems were still installed from floppy disks
Intel launched their Pentium II
A computer beat a reigning world chess champion under tournament conditions?
Pushing the boundaries with Qtechnology
When Newtec wanted to integrate additional intelligence to our machines through camera techniques, no company in the world could live up to our specific requirements to an intelligent camera and therefore Qtechnology was founded in 2007.
Qtechnology is a subsidiary of Newtec, offering a range of unique, smart cameras and application-specific vision solutions. All employees at Qtechnology are carefully recruited from all over the world for their specific competencies and know-how.
Each camera used in our machines are developed and manufactured by Qtechnology. This means that Newtec controls the entire process and that all service and support is backed up directly from Newtec.
During our longstanding cooperation with Qtechnology, we have continuously developed the cameras for quality sorting of potatoes and carrots. With a view to optimising bacteria detection and increase food safety in other industries, Newtec and Qtechnology are now working on a cutting-edge technology. By using the already acquired knowhow and the experiences of designing, constructing and installing hyperspectral cameras and the extensive knowledge of the analysing process, Newtec and Qtechnology have developed a special hyperspectral camera which instantly detects internal product defects and chemical composition.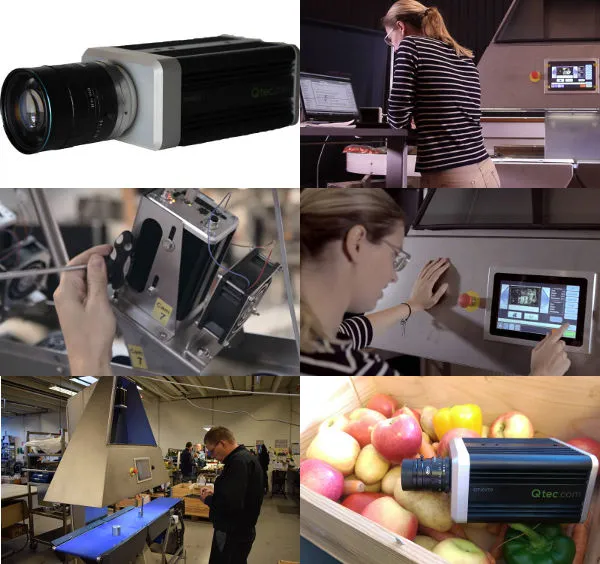 Your advantages
All-in-one camera with vision system and exchangeable sensor head

All camera types are supported by the same platform

Tailored cameras and algorithms for specific and future needs
Contact
Please contact your local representative for more information. See more