Developed, engineered and manufactured by Newtec
We have the solution, whether you weigh and pack apples, potatoes, carrots, bell peppers, citrus, onions, seafood or fresh cut products. If not, we will invent a tailor-made solution for you!
At Newtec, we design solutions to your specific needs by combining existing technologies and machines in new and innovative ways.
70% of our completed projects are in fact tailor-made to meet your needs.
Newtec is synonymous with quality and our machines are built to last - using only the best materials and latest technologies within software, automation and mechanical engineering.
Through close cooperation, we provide you with a solution aligned with current trends and demands within the food industry and thereby designed to improve your competitiveness.
Regardless of product or packaging, portion size and capacity, we have your upgradeable solution.
Your advantages
One solution, one supplier ensures total integration and optimal production.

All machines are designed to work together, in terms of product handling, signalling, data sharing, data collection and user interfaces.

Newtec takes responsibility for each unit.
Contact us
We know how to transform your products into marketable and profitable end products.
Benefit from our worldwide experience and contact us today at sales@newtec.com
Please see below examples of customised solutions we have delivered.
Excellence through collaboration
Understanding your business and the challenges you face enables us to deliver solutions that make an impactful difference.
In close cooperation with you, we enjoy and take pride in tailoring, constructing and installing your perfect solution.
Whenever you approach us with a challenge, you can be certain that a team of dedicated experts, with impressive know-how and long-term experience in challenging weighing and packaging projects, will go the extra mile to meet your needs on schedule.
We look forward to weigh and pack your products and contribute to optimising your production.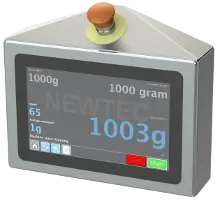 Your advantages
Newtec software
Intuitive interface

Spans across multiple machine types

Powerful and upgradeable
Contact
Please contact your local representative for more information. See more