Popular weighing solutions
Our machines especially designed for convenience & processed food, fulfills all requirements for food safety with their stainless steel construction and hygienic design:
All contact surfaces are made in rigidised stainless steel

Easy access for cleaning and service - e.g. no tools are required for dismantling and assembly of weigh pans

Gentle product handling with low drop height.
Please find examples of the many customised configurations that Newtec offers below.
Smaller portions, smaller products
2008PCM

- High speed and very gentle product handling with low drop height See more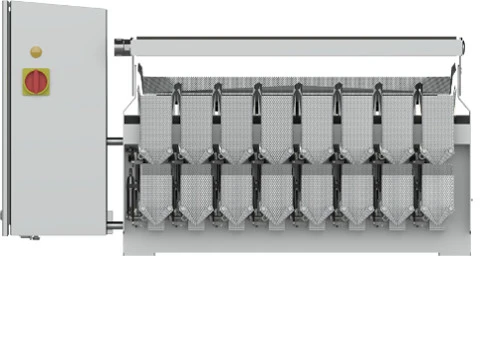 | | |
| --- | --- |
| Applications | Fresh cut fruits, snack products, small frozen products, similar small products. |
| No. of weigh heads | 8 |
| Width of weigh heads | 75 mm |
| Portion sizes | 50 g. – 500 g. |
| Speed | Up to 70 portions/min. |
| Product size | Ø: 60 mm, L: 80 mm |
| Dimensions without Portion Collection System | W: 1184 mm, H: 636 mm, D: 1021 mm |
| Air consumption and pressure | 25-50 NL/min., 6 bar (0.6 Mpa) |
| Electricity consumption | 3x400 VAC (N) PE 50 Hz 1.5 kW |
Belt

60
Select belt/outlet option
---
Medium portions, smaller products
2009PC

- Medium speed and very gentle product handling with low drop height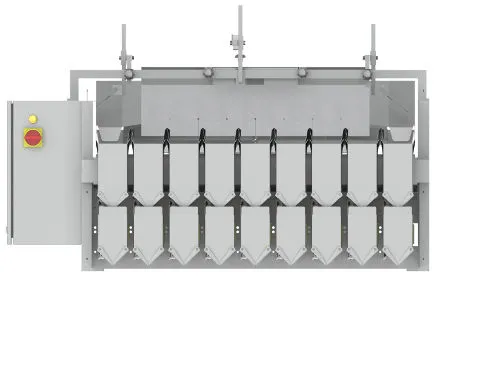 | | |
| --- | --- |
| Applications | For fresh and frozen products, e.g. broccoli, brussels sprouts, cherries, fish fillets, nuts, salad etc. |
| No. of weigh heads | 9 |
| Width of weigh heads | 102 mm |
| Portion sizes | 0.25 - 1.00 kg |
| Speed | Up to 60 portions/min. |
| Product size | Ø: 5-90 mm, L: 5-150 mm |
| Dimensions without Portion Collection System | W: 1479 mm, H: 668 mm, D: 1317 mm |
| Air consumption and pressure | 25-50 NL/min., 6 bar (0.6Mpa) |
| Electricity consumption | 230/400 VAC + (N) + PE |
Belt

60
Select belt/outlet option
---
2014PC

- High speed and very gentle product handling with low drop height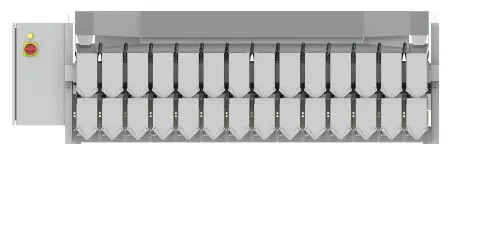 | | |
| --- | --- |
| Applications | For fresh and frozen products, e.g. broccoli, brussels sprouts, cherries, fish fillets, nuts, salad etc. |
| No. of weigh heads | 14 |
| Width of weigh heads | 102 mm |
| Portion sizes | 0.25 - 2.00 kg |
| Speed | Up to 100 portions/min. |
| Product size | Ø: 5-90 mm, L: 5-150 mm |
| Dimensions without Portion Collection System | W: 2104 mm, H: 657 mm, D: 1269 mm |
| Air consumption and pressure | 25-50 NL/min., 6 bar (0.6Mpa) |
| Electricity consumption | 230/400 VAC + (N) + PE |
Belt

60
Select belt/outlet option
Larger portions, larger products
2009PCB

- Medium speed and very gentle product handling with low drop height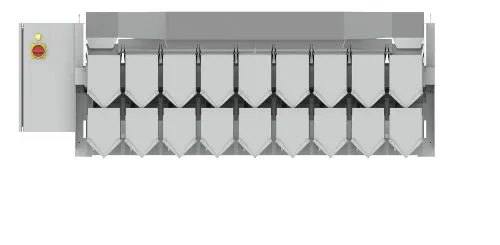 | | |
| --- | --- |
| Applications | For fresh and frozen products, e.g. broccoli, brussels sprouts, cherries, fish fillets, nuts, salad etc. |
| No. of weigh heads | 9 |
| Width of weigh heads | 152 mm |
| Portion sizes | 0.25 - 5.00 kg |
| Speed | Up to 45 portions/min. |
| Product size | Ø: 5-110 mm, L: 5-120 mm |
| Dimensions without Portion Collection System | W: 1930 mm, H: 664 mm, D: 1411 mm |
| Air consumption and pressure | 25-50 NL/min., 6 bar (0.6Mpa) |
| Electricity consumption | 230/400 VAC + (N) + PE |
Belt

45
Select belt/outlet option
---
2014PCB

- High speed and very gentle product handling with low drop height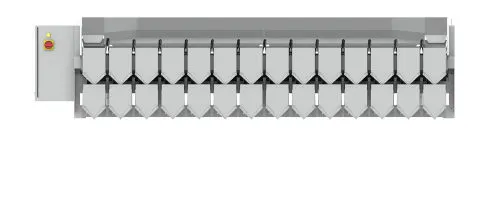 | | |
| --- | --- |
| Applications | For fresh and frozen products, e.g. broccoli, brussels sprouts, cherries, fish fillets, nuts, salad etc. |
| No. of weigh heads | 14 |
| Width of weigh heads | 152 mm |
| Portion sizes | 0.50 - 5.00 kg |
| Speed | Up to 70 portions/min. |
| Product size | Ø: 5-110 mm L: 5-120 mm |
| Dimensions without Portion Collection System | W: 2805 mm, H: 674 mm, D: 1382 mm |
| Air consumption and pressure | 25-50 NL/min., 6 bar (0.6Mpa) |
| Electricity consumption | 230/400 VAC + (N) + PE |
Belt

60
Select belt/outlet option