HSCF - High Speed Container Filler
Alsidige pakkeløsninger
For various ready-to-eat products in various types of containers
Flexible dispenser systems and punnet conveyors
Handle a broad range of packaging types and sizes.

Adjustable flight distance
You save valuable downtime minutes with quick changeover for various container sizes.
Newtec's High Speed Container Filler is equipped with a tool for each container type and while covering complex functions each tool is very easy to change from running one container type to another. E.g. it is easy to change from clamshell trays to buckets, because the following three units are exchangeable; the denester, the filling chute and the closing unit.
WebServices and MachineLink
Furthermore the packing machines are connected to our information and productivity tool WebServices for remote servicing and for capturing production data. Furthermore, the solutions are MachineLink enabled which means that recipe change and start/stop is possible from only one touchscreen, either on our weighing machine or our packing machine.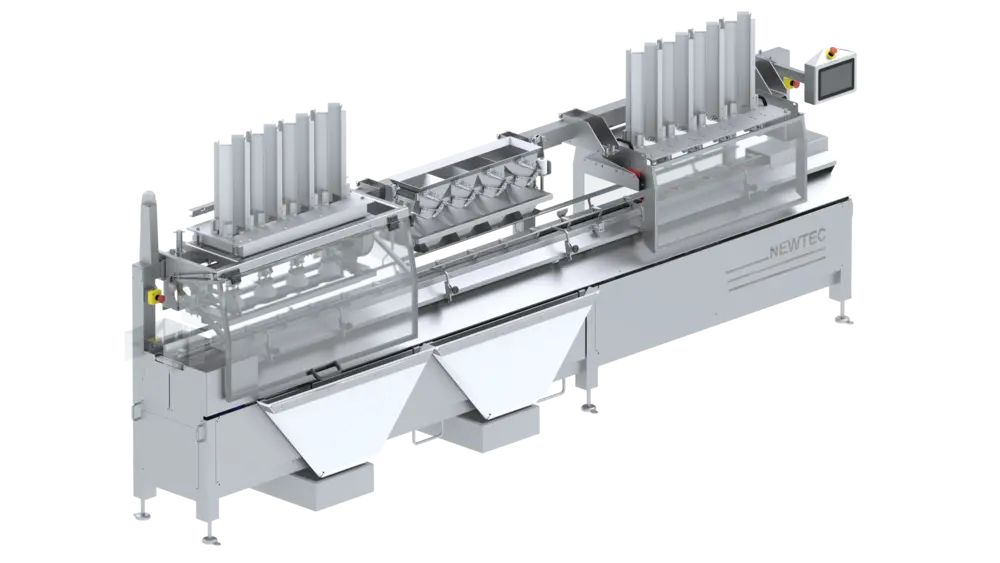 Applikationer
Forskellige forarbejdede fødevarer såsom:
Cherrytomater og andre friske grøntsager

Blandede nødder

Sundt slik

Andre ready-to-eat produkter
Vejet og fyldt i forskellige emballagetyper og størrelser.
---
Fordele
Høj fleksibilitet (emballagetype og størrelse)

Høj hastighed – op til 100 enheder/min.

Høj fleksibilitet med hurtigt skift

Skånsom produkthåndtering – gælder også skrøbelige og sarte produkter
Dine fordele
Nem og hurtig betjening

Valgfri låglukningsenhed

Nem adgang ved rengøring og service

Touchscreen styring fra vejemaskinens kontrolpanel er mulig
Newtec Software
Intuitiv brugerflade

Informativt og opgraderbart

Samme brugerflade på alle Newtec veje- og pakkemaskiner

---
Fyldesystem til bægre, spande, bakker og clamshell bakker
Hastighed:
Op til 100 beholdere/min. (afhængig af emballagetype og vejemaskinens kapacitet)
Kapacitet:
Portionsvægt op til 1000 g
Materiale:
I henhold til EU regler for materialer i kontakt med fødevarer
Luftforbrug:
Tilslutning: 3/8"
Min. tryk: 6 bar (0.6 Mpa)
Forbrug: 250 NL/min.
Elforbrug:
3x230 VAC or 3x400 VAC (N) PE 50/60 Hz 2.5 kW
Miljø:
5ºC  – 40 ºC
Vægt:
Ca. 800 kg

Kontakt os
Kontakt venligst din lokale repræsentant for yderligere information. Se mere